Hello friends and readers! I really do hope you are enjoying this Memorial Day weekend, long weekend here in the US and lovely weather in my neck of the woods. Today I bring to you Joanne from Princess Jillian. She has an etsy shop full of wonderful hair accessories. I am sure you can find there something there to fall in love with. Thank you for stopping by and please enjoy this interview.
1. Tell us as little or as much as you would like about yourself.
Hello! My name is Joanne. I'm a mother of two wonderful kids, ages 9 and 5 and a wife to a supportive husband of 12 years.
2. What do you sell?
I sell handmade hair accessories. I like to create different styles using variety of beads, vintage buttons, fabric cabochons and whatever I can get my hands on. The colors and designs reflect my style. They are stylish and fun to wear! There's always something for everyone! :)
3. Why handmade?
I love working with my hands. I enjoy choosing colors, paying attention to details and putting things together to create something unique. A personal touch to every item is what makes handmade items special.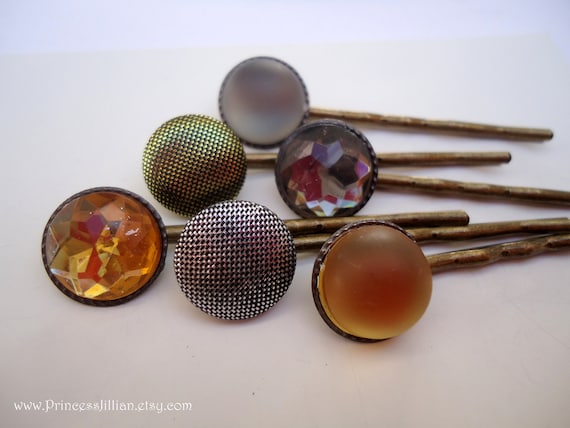 4. Where does your inspiration to create come from and/or your inspiration in life?
My inspiration comes from everything. Beauty is in everything.
5. Besides creating what else do you do? Do you have a full time job?
I work full time as a Research Associate in a laboratory. I like science but my passion is art.
6. When did you start thinking you were an artist?
I started when my family would ask me to design and make invitations, souvenirs, or anything for any occasions. I remember making simple invitations for my niece birthday and she was so thrilled about it. I just love that feeling of appreciation!
7. Who has been most influential in your craft work?
My daughter is my inspiration hence the name of my store: Princess Jillian. She simply loves everything I make. Even with my busy schedules, she has given me the courage to go forward in opening an online shop.
8. Where would you like to be in five years?
I hope to be able to sell full time. I would love to spend hours feasting my eyes at a bead store. I hope to open my own online shop and to be going to craft fairs and meeting fellow artists.
9. Is there anything you'd like to try doing that you haven't done? crafts, sports, life in general?
I'd like to take up photography lessons, learn to decorate cakes, and to experiment on making mixed media jewelries, just to name a few.

10. Besides online where else do you sell?
For now, I sell only in Etsy. I plan to sell in craft fairs and to have my own website.
Ways to contact you:
email: jtcabugao@yahoo.com