Hello dear friends and readers here's is another artist interview. Today I bring to you the shop
Feltinga
her owner is a philologist. I do have to confess I had to goggle philologist ha ha! I learned a new thing. Please enjoy the interview and visit
Feltinga
the shop.
1. Tell us as little or as much as you would like about yourself?
I live in Lithuania, small country in Eastern Europe. By education I am philologist and project manager. My full time job is not related with crafts – I am civil servant. So when I am at home I need to do very different things: to give a rest for my brain, to give a job for my hands and to release my fantasy. Of course, so far as my masculine family – husband and two sons (8 and 16) - lets (they are always hungry). But... they are my best helpers in IT, photo making and even products making – few of listings in Feltinga are made by my elder son! Felting is my hobby, not my full time job, so I have no special studio for it. That's why I get use of every premise in our house: I keep my supplies in cloakroom, felt in bathroom or sitting room, use to dry my felts near fireplace or in the warmest house place near the big window, make pictures under the skylight....So our house looks like a house of people with lots of hobbies: my children love LEGO, husband loves DIY, model making, gardening... And...my felts. We have no pets, so my felts are safe here.
2. What do you sell?
I've became acquainted with felting some 10 years ago when birth of small felt ball caught my eye during the public event of our regional museum. But it took about 5 years to summon up my courage, to find free time, to set free the fancy in order to take a flock of wool into my hands. And now I can't imagine my leisure without felting. Wool is amazing material, very plastic and very friendly with the fuller, wearer and other materials composing solid work. I do not limit myself doing one kind works. Brooches, necklaces, earrings, wristlets, bracelets, slippers, wool decorated glass vases, belts, shawls, gloves, Christmas, Easter decor, outfit is not finite list of the range of my creative works.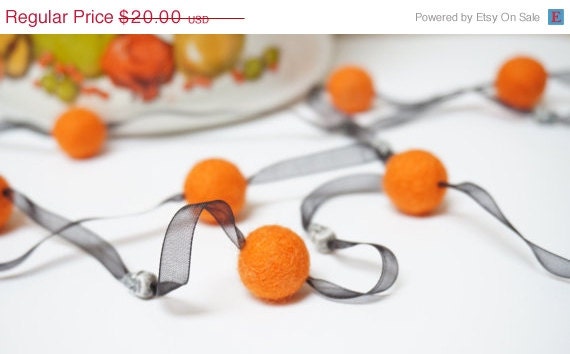 Garland felt wool balls
3. Why handmade?
When hands are working, the brain has rest... When hands make something special the soul has joy... Making things with your own hands is a sort of meditation for me. If you succeed you feel the great satisfaction. Your satisfaction is double when the client is happy with his purchase and especially when she/he comes back.
4. Where does your inspiration to create come from and/or your inspiration in life?
Colors... I love all colors: bright, neutral, pastel, pale, dark...Now I miss spring, it is so cold here, so I compensate this shortage with the colors of my felts. Constantly changing nature, flowers, sky... Other creations...
5. Besides creating what else do you do? Do you have a full time job?
Felting is my hobby, very different from my full time job. I'm civil servant in local municipality. Besides of felting I have more hobbies – travel, cinema, theater, books... Old things with history – that's why I have opened my second shop on etsy LivePastVintage.
6. When did you start thinking you were an artist?
I don't think I'm an artist... I have no artistic background, only love for everything what is beautiful... I learned felting myself from websites, from experience of other felters.
7. Who has been most influential in your craft work?
My colleague knew my passion for felting and once in 2012 she showed me cute felted product on internet. The product was listed on Etsy. I started to browse and suddenly it become clear that Etsy was what I needed - the place for my creations and a mean for my little extra. It is a perfect place for soul mates, I've found a lot of fantastic friends here.
My family and home is my fortress and supporters. Husband and kids evaluate my new items, give advices, help with IT, my parents find new vintage items and supply with ecological Lithuanian wool from their small farmhouse.
8. Where would you like to be in five years?
I would like to be in the same place with the same beloved people...
9. Is there anything you'd like to try doing that you haven't done? Crafts, sports, life in general?
There are still a lot of beautiful places in our world I have never been and a lot of great books I have never read...
10. Besides online where else do you sell?
Almost nowhere. Unless my friends, colleagues or neighbors ask to felt something.
Ways to contact you:
inga.leske@gmail.com