I only hope you are enjoying your Sunday. For today's feature I bring to you Kristin from
CarriageOakCottage
. Now, let me tell you and I do not lie on this I had the hardest time choosing items from her shop to feature on this humble blog of mine. Her shop is just so beautiful and pleasant to the eye, go take a look and see what I am talking about. Enjoy the interview
.
Tell us as little or as much as you would like about yourself.
Hi! My name is Kristin and I am a Mom to 2 girls, ages 5 and 7, and wife to my husband of 12 years.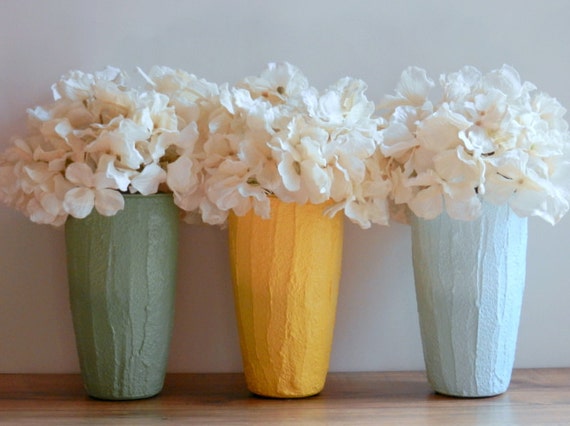 What do you sell?
I create mostly vases, but I am also experimenting with adding other home decor items to my shop.
Where does your inspiration to create come from and/or your inspiration in life?
4.
I am inspired by getting out in nature and walking around in the woods or near the ocean. Whenever I have the chance to get away from the fast pace of everyday life and just be quiet, I get inspired.
Besides creating what else do you do? Do you have a full time job?
With my youngest daughter having started kindergarten this year, sniffle, she's growing up... I am fully dedicated to my Etsy shop full time (when the girls are in school anyway) :)
When did you start thinking you were an artist?
Over the past year, I have become more and more comfortable with thinking myself as an artist. I think this might be a common phenomenon for artists who did not go to art school. Since, I do not have a degree in the field, I have struggled with even be "allowed" to call myself an artist. But I feel like my artwork is within me, as strange as that may sound. Yes, I think I am an artist. :)
Where would you like to be in five years?
On the beach in Hawaii...
Or I would like to have a nice big open studio to work in. I currently work in a very small space and organizing my work is a struggle.
Is there anything you'd like to try doing that you haven't done?
crafts, sports, life in general?
I would love to learn to sew. I bought a sewing machine on sale a few years ago. I put it away after an afternoon of trying to thread the thing. I haven't seen it since! :)