I've never talked about this topic here. Boxing. I don't think so. I've never liked the sport. While growing up and with only one TV at home black and white that is (blah...) boxing was the Saturday Night thing. My parents would watch it and my brothers and I would too. We would lay on the bed my spot was right at their feet trying to lift my head to watch the TV set on the dresser.
It was hard on my neck, I hated that! maybe that's why I didn't like the sport o Saturday night.
Oh and did I mention the black and white TV?
well, all I remember is the commentator saying:
"the man in the red boxers" duhh! black and white remember?
It was too fast for me to follow and I could never tell who hit who...
Canelo Vs Khan
Well things do change. When I married Javier almost seventeen years ago and him being a fan of boxing. Well I started watching boxing again. Some may think that is a barbaric and savage sport. It is violent, no denying. But in reality is just a spectacle of two men or women willingly trowing punches, they're fit, they're prepared, following rules and with medical back up. They generate tons of money.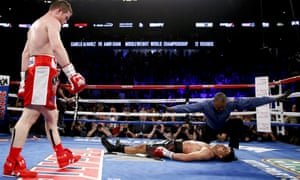 source
This past weekend we watched Mexican boxer
Saul Canelo Alvarez defeat by knockout British boxer Amir Khan.
We cheered as Canelo punched Khan and sent him to the canvas,
then it just happened...silence as Khan just laid there motionless. We just waited to see if he responded.
Gahh that's the sad part...you cannot help but feel bad for him. Luckily he got up and is fine.
We made it a family thing. The kids like watching Mexican boxers on the ring. Sometimes we go to my mother in law's house in LA to see a boxing match as Javier's brother and his dad like boxing too. There is always food, family and friends. But to be honest I enjoy it better in my own house just us, no driving, no sleeping over, no cooking for guests, bra off... Emma was asleep so I had a couple of drinks.
I deserve them right?
After the fight Canelo challenged this guy GGG who is supposed to be good!
Cannot wait for the next match!

Canelo is from Jalisco, Mexico where my parents are from
see that's where patriotism comes in. Plus like in any other sport it helps if the guys are cute right? ;)

Well, now that I've said it, what do you think of boxing? do you like it? dislike it? neutral?
I'd like to hear your point of view.